ADA FUNDRAISING:
Works with various Organizations by providing high quality autographed sports memorabilia for silent, live, online auctions and raffles on consignment with ZERO up-front costs, monetary obligations or minimums to be met. No matter the size of your event, ADA can help maximize your fundraising efforts while developing a long-term relationship with your organization. ADA can help take your event to the next level whether $300 or $10,000+ we can help. ADA has helped over 600 charities yearly.
What makes us have the best prices – we do the signings with the athletes and we build the product. We do everything in house which allows us to provide you with the best price.
HOW IT WORKS:
ADA suggests a minimum bid for each item which is higher than the consignment price of the item to the organization, organization will profit on the very first bid.
Organization will receive 100% of the proceeds above the consignment price of the items.
Any unsold items are returned to ADA and you are only invoiced for the items that sold.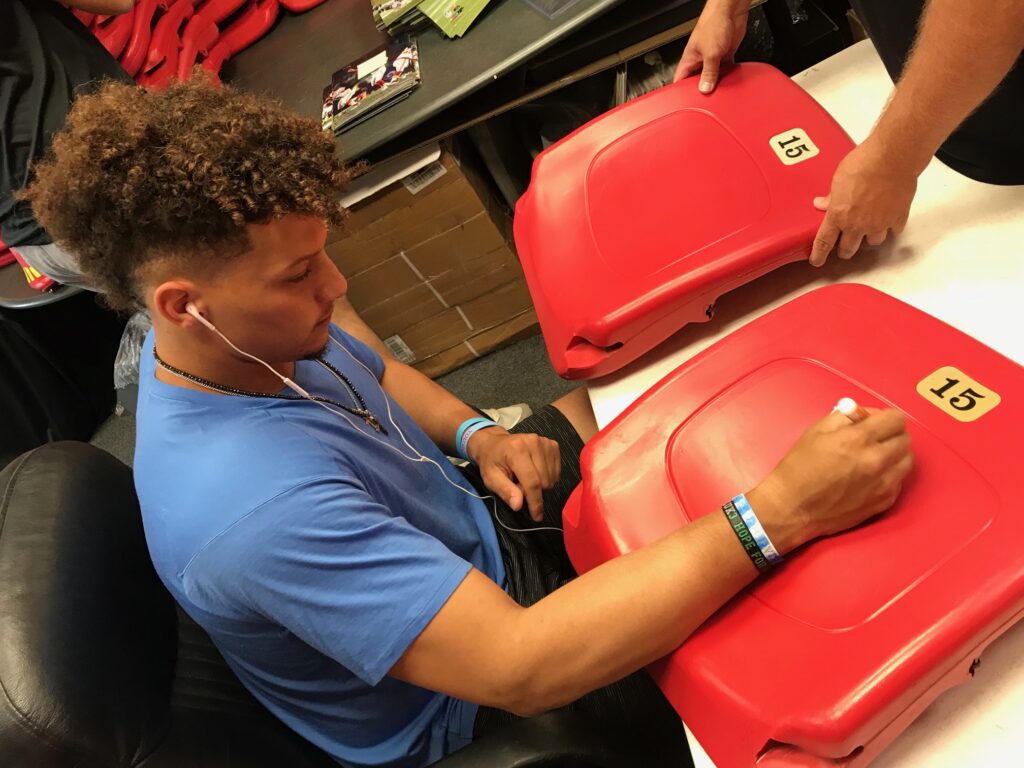 Testimonials
"ADA Fundraising is truly a dream come true. ADA has helped us raise a lot of money for our non-profit and they are truly easy to work with. I truly feel they have went above and beyond to help us and maximize our fundraising efforts."
— John Lair – President and CEO – Special Olympics Kansas
"I've had the opportunity to be a part of ADA's events for the past 3 years now and I've always been so impressed at how efficient and well run these events are. There are so many things that have to happen behind the scenes and so much work that goes in to each event to provide the public the opportunity to meet their favorite players and build their personal collections. I feel the city is blessed to have such hard working and trustworthy individuals providing these opportunities. The truth is there are so many variables and things that are completely out of their control (like athletes showing up an hour late) and they still manage to turn it in to a positive experience. Can't say enough good things about them." — Joe Devine Art
"ADA is so easy to work with. Our silent auctions have been very successful due to the great items that are available through ADA!" — Sharon
"We have used ADA for several years now at our Golf Tournament.
I recommend them for all fund raising needs." — Todd
"As the Executive Director of Development at Allen Community College, I cannot say enough about the impact that ADA fundraising has had on our annual Red Scholarship Athletic gala. This is an annual event that has a goal of raising $50,000 for our athletic department scholarships. Before using ADA fundraising our goal was nowhere near being met, in the last 5 years, or profits have quadrupled. Brad, Shannon and the entire ADA fundraising team are fantastic about putting the right items with our donors. On top of our great fundraising results, I can honestly say that when we came in the door the first time at ADA Fundraising, we were customers, but we leave every time as friends! We've built a beautiful friendship and relationship with ADA and I am forever grateful to both Brad and Shannon for all they do for us every year!" — Aimee Thompson, Executive Director of Development – Allen Community College Endowment Association
"ADA is the best at what they do, they provide unbelievable quality sports memorabilia products for the non-profit sector wtihin the greater Kansas City metropolitan area . Thanks Shannon to you and your staff, for helping us (Kansas City Hospice & Palliative Care, Stacks Youth Project, and AAS Restoration) ensure our fundraising events are a huge succcess throughout the year!" — Deb
"I've been dealing with the great people at ADA for several years now, they are my go-to source for Chiefs and Royals items! Top tier company that is always a pleasure to deal with!" — Mike Chitwood